Peter Koroma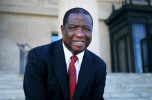 Phone: 204-272­-4242
Questionnaire Response
Peter Koroma - Logan
1. Why did you decide to run in the 2016 Manitoba election?
As a father of three, I am passionate about building a better Manitoba for the next generation growing up in this province. I'm a community advocate, with decades of experience working in Winnipeg's core communities, helping inner city families. Like many newcomers, when I immigrated to Canada I landed in Winnipeg's inner city and lived in this community while attending university. After graduating with a Master's degree in Economics, I worked as a policy analyst before switching to Family Services. Seventeen years working with the government taught me a lot about our provincial bureaucracy, and I used that knowledge to help many Manitobans when I was working for River Heights MLA Dr. Jon Gerrard as his constituency assistant. I left that rewarding job to take on this campaign, because I know that if this community that gave me my start in Canada will allow me to be its voice, I will be a strong advocate for meaningful change in Winnipeg's inner city.
2. What experience will you bring to complement your role as MLA?
My experiences working for government and for constituents make me uniquely qualified to tackle the issues facing Logan as a community. While there are NGOs and religious organizations working hard to help those who are struggling, I believe that the local MLA needs to be an active partner at all levels. If elected, I will be a strong advocate for all people in Logan—students, seniors, business owners, middle-class workers and those living in poverty.
3. Is there anything in particular you would like to change in our province? In your electoral division?
As a province, I feel that the current state of Child and Family Services needs to be addressed. We cannot continue to allow tragedies involving children in care to be commonplace, and there are many common-sense changes that should be done. For example, we must truly put the needs of the children first and that means keeping them in their home communities and with extended family whenever possible. We cannot house children in hotels without proper supervision, and we cannot continue to justify having over 11,000 children in care—most of them Indigenous. As MLA, I will advocate for necessary changes.
Logan is one of the most multicultural communities in Canada and immigration settlement is a pressing issue. Many immigrants and refugees get their start in Logan, but too many are finding it hard to lift themselves out of dire straights to find good, well-paying jobs. As MLA, my office will have staff who are always available to help with immigration settlement issues, and I will use my expertise in this area to help more newcomers find successful opportunities.
4. What key issue(s) / topic(s) would like to stand for in your role as MLA, and why is it important to you?
Fighting Crime – While I believe that the Logan community is safer than many people give it credit for, there is no denying that crime is a problem. It is a problem that is rooted in poverty and neglect. I believe that a community-oriented approach is needed to reduce gang violence and crime in the inner city. For example, our schools and recreation centres need to be more accessible and engaging for young people, to keep them off the street.
Ending Homelessness – We have roughly 1700 homeless people in Winnipeg, and many of them are in Logan. As MLA, I will work to end homelessness in Winnipeg's inner city. With so many successful businesses, Winnipeg's City Hall, and the police headquarters in this riding, I know that we can do more to support the good work NGOs are doing to reduce homelessness. I will actively reach out to all the influential stakeholders downtown to help end this problem, because it will ultimately benefit our society and our economy.
5. What is one thing in particular that you value about the electoral division that you wish to represent?
Multiculturalism in Logan is exceptional—even by Canada's standards. I value the fact that in Logan you will find new Syrian refugees living side-by-side with the Sudanese, Portuguese, Filipinos, First Nations and so many other communities that make our city great.
So many newcomers start their Canadian experience in Logan, and when they find education and good jobs in Winnipeg's inner city it helps our entire economy and society at large.
6. Do you have any other comments regarding your candidacy?
Winnipeg's inner city needs a champion. With experience dealing with immigration settlement, union disputes, Child & Family Services and Manitoba Housing, I am prepared to help newcomers, civic workers, Indigenous families, residents struggling with poverty and all others who need a strong advocate in the Legislature.